A Video Graphics Array (VGA) connector is a three-row 15-pin DE-15 connector. The 15-pin VGA connector was provided on many video cards, computer monitors, laptop computers, projectors, and high definition television sets. On laptop computers or other small devices, a mini-VGA port was sometimes used in place of the full-sized VGA connector. Many devices still include VGA connectors, although VGA generally coexisted with DVI as well as the newer and more compact HDMI and DisplayPort interface connectors.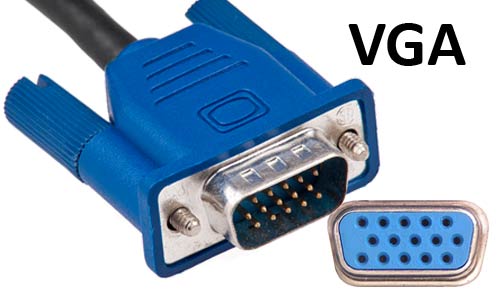 VGA connectors and cables carry analog component RGBHV (red, green, blue, horizontal sync, vertical sync) video signals, and VESA Display Data Channel (VESA DDC) data. In the original version of DE-15 pinout, one pin was keyed by plugging the female connector hole; this prevented non-VGA 15 pin cables from being plugged into a VGA socket. Four pins carried Monitor ID bits, which were rarely used; VESA DDC redefined some of these pins and replaced the key pin with +5 V DC power supply. Devices that comply with the DDC host system standard provide 5V ±5% and supply a minimum of 300 mA to a maximum of 1 A.
The VGA interface is not engineered to be hot-pluggable (so that the user cannot connect or disconnect the output device while the host is running), although in practice this can be done and usually does not cause damage to the hardware or other problems. However, nothing in the design ensures that the ground pins form the first make or the last break in the connection, so hotplugging may introduce surges in signal lines that may or may not be adequately protected against damage. Also, depending on the hardware and software, monitor detection is sometimes unreliable when hotplugging a VGA connection.