The automotive wiring harness market size was valued at USD 48.42 billion in 2017, expanding at a CAGR of 6.2%. Increasing integration of electronic devices into vehicles in order to provide enhanced safety features has positively influenced market growth. Employing these systems in a vehicle offers numerous benefits such as improved fuel efficiency, enhanced performance, and low probability of electrical shortage.
Sale of automotive wiring harnesses is directly proportional to increased manufacturing of vehicles. Factors such as rising disposable income, increased government initiatives such as Make in India, and prevailing low labor cost in countries such as China and India have led to increased manufacturing of passenger cars and light commercial vehicles in developing economies. This, in turn, is driving sales of automotive wiring harnesses.
Rising adoption of electric vehicles (EVs) is another significant trend proliferating market growth. This can be attributed to expansion of EV charging infrastructure, increasing fuel prices, favorable changes in government policies, and environmental regulations.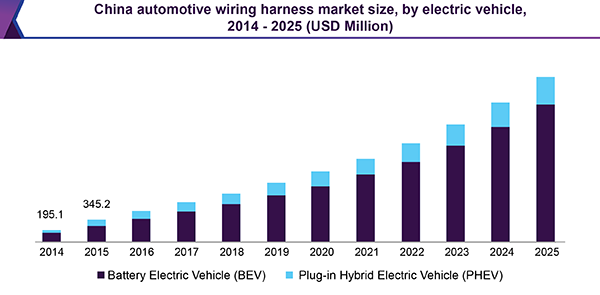 Despite numerous technological advancements in the field of automotive assembly line, manufacturing of wiring harnesses is still carried out either as a labor-intensive task or using semi-automatic machines for selected operations. To overcome this drawback, numerous OEMs in the market are focusing on constructing new manufacturing facilities equipped with automated machines for manufacturing of wiring harnesses in countries with lower labor rates, such as India and Japan.
Automotive wiring harnesses find application in chassis for various components such as fog lamps, headlamps, infotainment systems, fuel flaps, and turn indicators. Therefore, the chassis segment accounted for over 30.0% of the overall market in 2017 and is expected to develop at a considerable growth rate from 2018 to 2025.
The sensors segment is expected to register the highest CAGR of over 8.0% owing to its growing use in technologically-advanced vehicles, which include numerous systems such as safety and security systems, lighting systems, infotainment systems, and battery systems.